Spirited Women Adventure Race
"This event defines the spirit of a kiwi woman — her give-it-a-go attitude, sense of adventure, strong belief in her girlfriends with a desire to help them through difficult times and celebrate the good times"
The Spirited Women – All Women's Adventure Race is an event catering for all levels of fitness and experience, where teams of 4 women take part in a short, medium or long course adventure in the great outdoors. Traveling together a team must navigate around a secret course by foot, mountain bike and stand-up paddle board, completing a few surprise mystery activities along the way.
After three-ish months of training we were finally heading down to Rotorua for the event — I'd barely slept all week and although I felt kinda prepared, I was still worried about the length of time I would need to be out on the course (much, much longer than any of our training sessions had been) and of course the big storm warnings for Rotorua that day … gulp. I ran out and bought an insanely expensive rain-jacket and packed my gear, rechecked my gear, checked it again, once more and then unbaked some road-trip snacks which we ended up being too nervous to eat (but omg so good, recipes coming soon!).
I tripled checked that my loaner-bike was still available from the super awesome crew at Cyclezone in Rotoura and we were away, giggling like nervous teenagers on their first road-trip!
First stop after checking in at the event, was to get my loaner bike — yes, I was nervous about not using the bike I had trained on, but really, it could only be an improvement. When the bike-dude (who happens to be my brother) brought it out it, I swear I heard a choir of angels singing and pretty much saw this in my head! (I know, worst photoshop job ever but you get the idea.)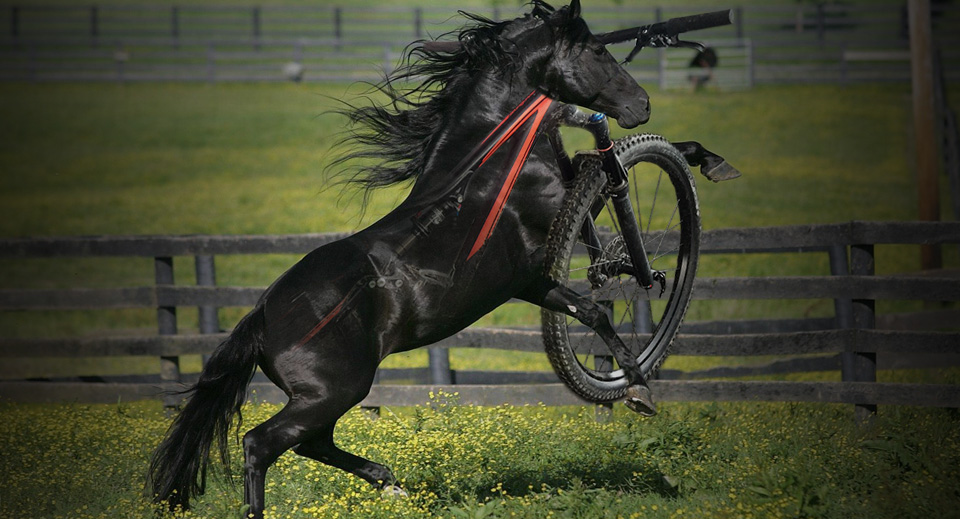 So, it was hence-forth to be known as "The Stallion" — yes, endless jokes there I know. I jumped on to give it a ride around the carpark. And after just hearing how it's one-fingered brakes are quite sensitive I come barelling back, still standing up on it with excitement, slam on my brakes as I would have on my old bike, go flying over the handlebars on to the asphalt, roll a couple of times whilst the rest of the team is gasping, seeing the whole event slipping through their fingers and my brother just shaking his head quietly to himself. Oh the shame! Luckily the only injury was some scraped arms and embedded gravel. With The Stallion racked tightly, we were now race-ready!
We picked up our maps that evening, poured over them well into the night, I wrote up our checkpoint clues (which would be attached to my arm during the race), checked the weather app a million times (still showing lightening) and hardly got a wink of sleep.
Oooh the excitement — after brekkie and a few coffees, we were at the start line early giving the last of our instructions to our amazing support crew. And what the hell, it wasn't even raining!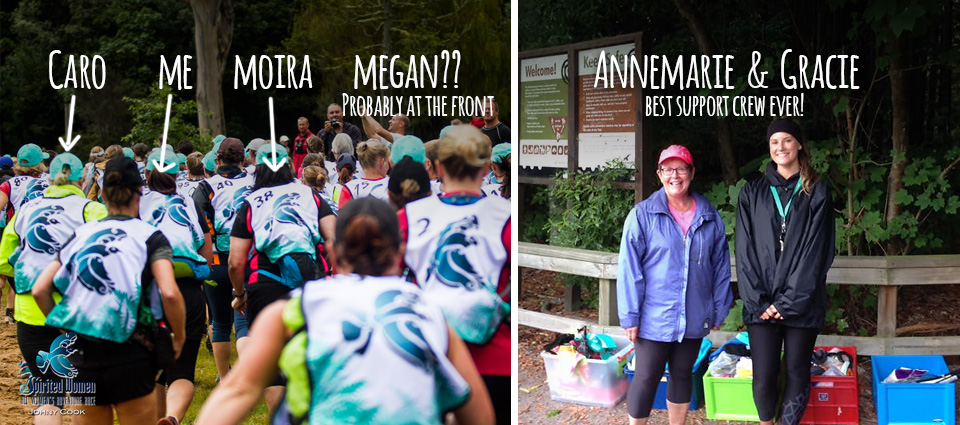 Finally, we were off. Megan, our main navigator and resident energizer-bunny went straight out in front I suspect — with not enough paddle boards for everyone in our wave of athletes we were keen to get in first (not first, first, just first wave of SUPs ;-).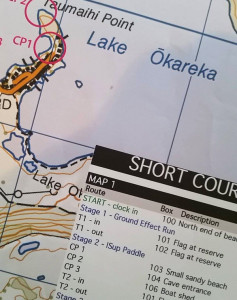 As we hit Lake Ōkareka I remember wishing we had to time to admire the beauty (as we did many times during the race), what an absolute stunning place! And as I paddled into the small hidden cave entrance full of lush native ferns and rockery — feeling a bit like I was on a Bond mission — I was grinning from ear-to-ear thinking this moment right here was what it was all about — adventure racing.
A big stretch on foot followed, the rain had started by then, not that we noticed much but the ground was starting to get a bit slippy in places. The checkpoints were getting a little harder to find and for me, the going got quite tough here with a some asthma rearing it's ugly head and calf cramps starting to set in, already! Luckily Moira — in charge of team wellness — was making us eat and drink at regular intervals (she's quite strict) which can make the world of difference in the beginning of the race when really it's the last thing you feel like doing.
Finally it was time to get on the bikes, f@$k yeah! The Stallion took off at great pace, it's larger wheels travelling with ease and it's gears going lower than I ever dreamed possible — happy, happy sigh and I think I only mentioned how good it was about 75 times! We lost a bit of time looking for some tricky checkpoints (Māori rock carving grrr) and again wished we could have stopped to admire the surroundings, but onwards, always onwards.
The middle is a bit of a blur to be honest, I know we had a couple of challenging mtb tracks, some well hidden check points and the Treewalk which Caro literally sprinted round whilst the rest of us were not so sure of it's stability — again it would have been nice to slow down and actually enjoy the views.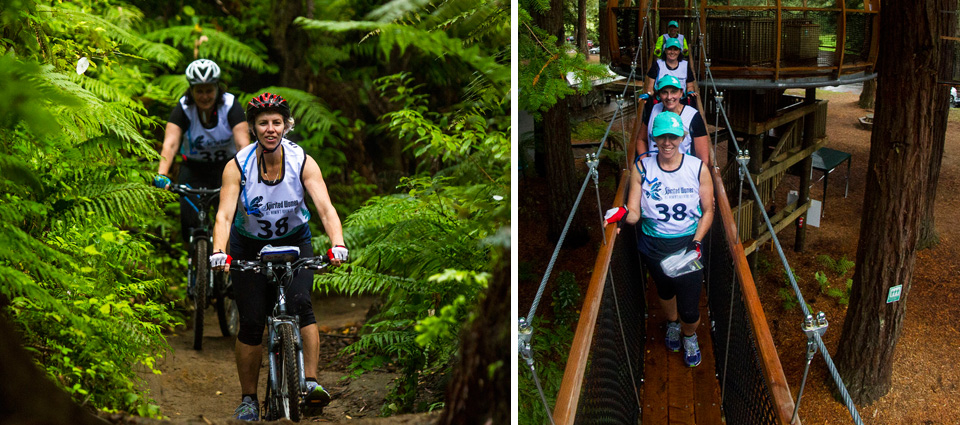 We raced around the rogaine in the Redwoods and again, the scenery was breathtaking, thank goodness 'cause it was taking my mind of my calves which were now cramping big time — clever thinking Caro threw me an electrolyte drink and a bag of salted chips at the next transition (omg so good and I would never have thought to pack those in a million years) which really took the edge off.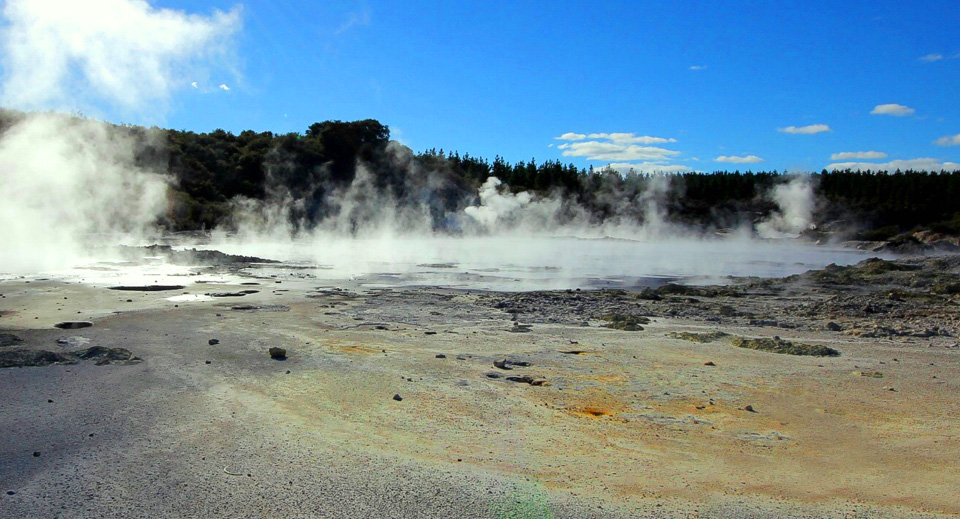 One of the highlights for sure was riding through the geothermal areas — it felt almost out of this world and I can't wait to go back and do it again with my camera in tow. The other highlight was the amazing vibe of the day — when you look at all the photos there aren't many where women aren't smiling or laughing and it certainly seemed like that when we were out on the course.
And then, almost a little too fast, the finish line was approaching. I felt like I was just settling in to the last bike leg on The Stallion and it was over before I knew it (have I mentioned how good that bike was?!). A quick final run around town and we were heading for the pub — best finishing line ever! Sprinting (albiet a short one) in to loud applause, I plunged that tracking stick into the very last checkpoint — boom, job done!
Glasses of bubbles were thrust upon us as we were jumping and hugging like school girls. What a high — that feeling of incredible achievement in conquering the course using skills we barely had only a few short months ago. And not only surviving it but actually really enjoying it, having fun together as a team. Yes, I had a few tears in my eyes — turns out I can do long distance events after all.
Megan, Moira, Caro and I would definitely recommend it as an life-enriching experience to anyone at a beginner level wanting to give it a go. Cast aside your doubts, fears and procrastinating tendencies and recruit a team of spirited women for next years event. Here's the link so y'all can bookmark it — we will definitely be there — fitter, stronger and faster *fist pump*!
Oh yeah and that snack pack was pretty darn delicious on the drive home ;-)