My Scanpan Roasting Dish
This roasting dish has changed my life! *
I grew up cooking in a kitchen which had a large, heavy roasting dish. It pumped out crispy roast potatoes time after time and I thought nothing of it. It was, however, a total b#tch to clean with most of the best crispy bits sticking hard and fast to the tray, even after a few overnight soaks (which was always a great way to get out of finishing the dishes!).
When I left home I stocked up on a few kitchen essentials as you do, and I just bought the cheapest non-stick tray there was. Non-stick of course because I was eating low-fat back then. The tray lasted about half a dozen uses before it started to get scratched and the non-stick coating blistering. Then I just put baking paper down every time I cooked in it, until it became so rusty, I repeated the process and bought another. For. Twenty. Years.

So, one night I was cooking dinner at my sister's house and she had these 2 amazing looking roasting trays. Heavy pressure cast aluminium in pristine condition which cooked the best damn meal I'd had in ages (without a scrap of baking paper in sight).
Thinking they were new I asked her where she got them from "We got them as a wedding present" (I have to add here — and said with sisterly love — she's no spring chicken), so blow me down they were decades old and still looking like new. And the best thing — apart from the veggies it roasted with delicious caramelised edges — was it basically just wiped clean! No scrubbing, no 'best crispy bits' clinging on to the bottom for dear life that you have to spend the next 3 days trying to wrestle off, just a quick warm soapy water wash with a cloth.
Well, well, well!
I had a quick look online and gasped a bit at the price. Thought about it for the next few days, trying to justify it with the money I'd already spent on cheap trays and baking paper. Meanwhile, hubby had already ordered one online and it turned up on the doorstep a few days later — and omg, that first batch of roasted veggies, beetroot with a sprinkle of fennel seeds and some flakey salt … oh my, deliciously sweet from taking them just to the edge, still with their crispy bits but soft and tender in the middle — delishimo! Why the heck didn't somebody buy me one of these as a wedding present?!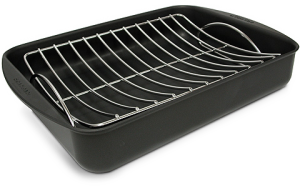 I got the one with the rack which also makes roasting chickens etc that much easier. It's my best "I don't want to cook" go-to. Throw in a whole chicken, put some root veggies around it and whack it in the oven. Serve with a super quick salad or some green beans … job done.
If you're swayed to upgrade your roasting dish, make sure you shop around for the best price — hubby found ours online for nearly half the price. I got the big one and haven't regretted the size (I do have a wide oven though).
NOT A SPONSORED POST, I JUST REALLY, REALLY LIKE IT.
* To be fair I do say that a lot, but in my defence, a lot of things actually do change my life for the better.