The Plate
What to eat when there's nothing to eat.
This is what's commonly referred to in our house as "The Plate" – usually served at lunch time when we don't really have anything else to eat. Sometimes we are lucky enough to have leftover barbecued meat from the night before, sometimes not, and often nothing delicious waiting for us as we open the fridge. Basically it's just a collection of whatever we have on hand and is quick to prepare – this plate has
slices of smoked fish
1/4 avocado
carrot sticks
slices of capsicum
cucumber sticks
few grape tomatoes
couple of Little Bird Crackers
dollop of homemade mayo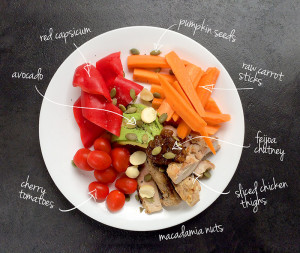 Mix and match whatever you have on hand, add in some nuts, or nut butter, olives or pickles, cold meat, few slices of fruit – the plate is a weekend staple in our house an like a snowflake, each one is a little bit different!