Feijoa Chutney
Have feijoas by the bucketful? Lucky!
Yay, it's feijoa season. I love how it's such a kiwi tradition to share all the surplus fruit from backyard trees. People bring in bulging bags to work for co-workers or they share amongst their families and friends. I can't help thinking how great it would be if everyone grew just one vege and did the same thing – I might plant a whole garden of fennel next year I think :-)
Anyway… this chutney recipe is soooo easy to make and so delicious, have it on cold slices of chicken or lamb for lunch, on top of  avocado on a seed cracker, or put it in the back of the fridge for all the upcoming winter curry nights mmmmm
Ingredients
3 cups feijoa flesh (scoop out the inside of the feijoas)
1 cup dates, chopped roughly
1/4 cup dried apricots, sliced thinly
1 large red onion, diced
1 lime, sliced super thinly, then roughly chopped, skin and all
3/4 cup cider vinegar *
1/4 cup water
1 teaspoon ground ginger
sprinkle cayenne pepper
pinch of salt
*I used a Manuka honey cider vinegar so if you are using just a regular cider you could add a tsp of Manuka honey.
Method
Put all ingredients into heavy bottom pot. If you like a strong feijoa taste, finely chop some feijoa skins and add in. Bring to the boil and simmer for 30-40 minutes – you'll know when it turns from stewed fruit to more of a syrupy sticky consistency – yum!
Spoon into sterilised jars and give away to your most favourite people!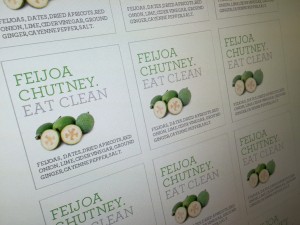 Help yourself to some labels to print out for your jars — Feijoa Chutney Labels.