Mystery box challenge
I'm an avid follower of the Masterchef series and I especially love the 'mystery box challenge' the contestants do. Watching them shift nervously from foot to foot as they wait for instructions to lift the lid… oh so exciting! (lol I can feel the eye rolls from here). And best of all watching their expressions as they see what it contains.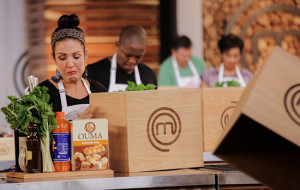 I like to pause the telly right here and discuss with the kids what we'd all make… my smallest seems to be able to turn everything into a dessert! It always amazes me to see such different dishes come out of so few ingredients and the creativity shown by some. I'd be the one still in the pantry for a ridiculously long time – much like I stand in front of the fridge most nights wondering what the hell to cook for dinner.
Anyways… after being approached from Food Compass (great online store to get your harder to find ingredients) to showcase a few of their products in of my recipes, of course I suggested some kind of mystery box challenge. Gulp.
So here goes… am awaiting my first mystery box. Dammit, now I really want one of those nice wooden boxes… my brother can build things like that… :-)
---
Mystery box 1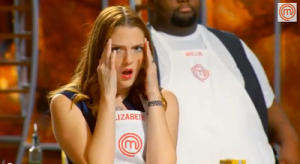 ooh the excitement – courier arrived this morning and I eagerly ripped it open (even though I promised the kids I'd wait for them – life's full of broken promises though isn't it?!) and this was pretty much my face…
The Challenge Item was Organic Mesquite Powder … Mesq-what-is-it-now? I felt the panic set in and to be honest, had to have a super quick google (they do that on Masterchef right?).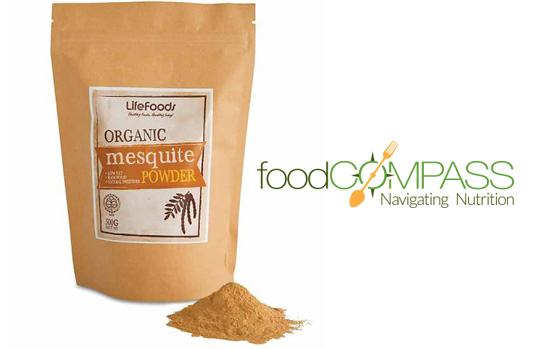 I knew it went in smoothies and bliss balls etc but Icould hear Matt Preston in my head "Is that going to win you an invention challenge?" Damn you Matt, no, no it is not.
But for the love of god I couldn't find anything that helpful about exactly how to use it, so I opened the bag and had a wee taste – mmm it had some aromatic qualities – almost malty, and I knew it's often used as a sweetener.First I thought it would be delicious with some kind of vanilla custardy warm green apple number (which I will do at some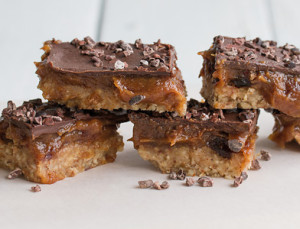 stage) or with some stuffed and grilled stone fruits with a touch of manuka honey (which I will do when they are in season) but then I thought of caramel… and couldn't really get past it, so that's what I went for – a Mesquite Caramel Slice which I thought was quite delicious, I don't think I could have got that caramel flavour without the Mesquite so I feel it's showcasing the ingredient well.
---
Mystery box 2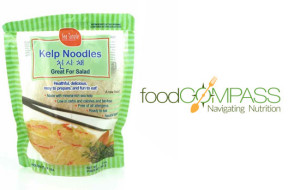 The excitement continues with mystery box two!! I had suggested savoury for this box as I'm trying to loose those few xmas/summer socialising kilos. I've been keeping our meals pretty simple — barbecued meat or chicken and a couple of salads most nights. So, when I saw the kelp noodles I almost let out a little squeal — noodles!! (And I think the kids were just as excited as I was!)
I knew instantly what I wanted to make with them and ran to the fridge to check I had everything — whoop! Look what I made …