Pineapple & Mint Carpaccio
After all the rich Christmas food consumed over the last week, this refreshing little number is a perfect way to start the new year. With it's fresh flavours it can be served with main meals (goes great with smokey barbequed meat or a side of leftover ham), or as a fresh desserty end to a meal. With the glorious weather we are having at the moment it makes a light and colourful addition to those hot summer barbies.
SERVES 4-6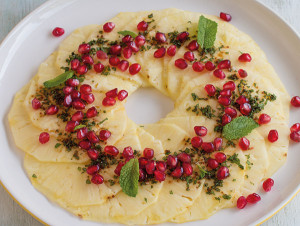 Ingredients
1/2 fresh pineapple
squeeze of lemon juice
1 tablespoon fresh mint, sliced finely
1 teaspoon coconut sugar (optional)
pinch of salt
1/2 pomegranate
mint leaves to garnish
Method
Remove the skin and core of the pineapple and slice thinly using a mandolin on 1.5mm (or your best knife skills). Arrange slices on a serving plate.
Mix the mint, coconut sugar and salt together in a small bowl – be a bit vigorous to get the mint flavour through the sugar and salt – sprinkle over the pineapple.
Slice the pomegranate in half and remove the seeds – just hold a half, cut side down in your hand and hit the top firmly with a wooden spoon. The seeds fall into your hand and are ready to use. Sprinkle the seeds on top of the pineapple.
Garnish with a few whole mint leaves and chill until you are ready to serve.
Perfect after a hot day at the beach!