Sweet pumpkin 'porridge'
I'm not going to lie, some days I still miss my hot porridge, and my cereal, and my Greek yoghurt. But yay, this little number takes care of all three cravings in one hit — and it's super filling so it keeps me going for most of the day. As part of my Sunday food prep I usually make a big bowl of mashed pumpkin so I have it on-hand to pad out our main meals. Sometimes I put this dish into small jars to leave in the fridge for tween snacks — still a bit too chilly for me for that kind of carry-on though!
SERVES 2
Ingredients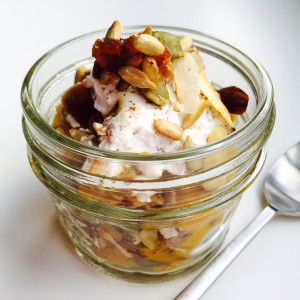 1 1/2 cups cooked, mashed pumpkin
1 egg
1 tablespoon linseeds
zest of half an orange 1/2 teaspoon cinnamon
1 teaspoon vanilla extract
topping*
1 tablespoon sunflower seeds
1 tablespoon pumpkin seeds
1 tablespoon almonds, roughly chopped
1 tablespoon coconut chips
2 dried apricots, finely diced
serve with
2 tablespoons coconut yoghurt
*I usually make this up in larger batches and store leftovers in a glass jar
Method
For the topping, put all the ingredients apart from the apricots into a small frying pan. Heat for about 5-6 minutes, tossing ocassionally until the nuts and coconut start to brown. Remove from the heat, stir through the apricots and set aside.
In a small pot, put the mashed pumpkin, egg, linseeds, orange zest, cinnamon and vanilla and mix well. Stir over a medium heat until mixture is hot.
Divide the mixture into two bowls, sprinkle with the topping and serve with a dollop of coconut yoghurt.
Hubby suggested some crispy bacon on the top … up to you!