Fresh Tomato Salad
What is it about the taste of a homegrown tomato?
I can't grow tomatoes. Believe me I have tried, year after year with little to no success … maybe I'll get one tomato, two if I'm lucky, which then gets gobbled up by birds the moment it starts to look remotely ripe. I have all but given up. I've spent this year telling myself it's not worth the effort, tomatoes get so cheap when they are in season that it's not worth growing them myself. Until, of course, I eat a homegrown one. That sweet, juicy, actual tomato-tasting flesh which in an instant transports me back to my childhood … sigh, maybe I'll give them another go next year.
Luckily I get overflow produce from friends and family who have had bumper crops — they're best, IMHO, served drizzled with a tasty little dressing to bring out their delicious natural homegrown flavours.
SERVES 6
Ingredients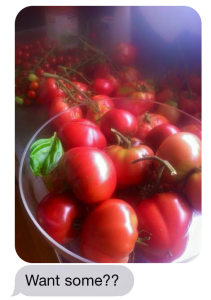 3-4 cups ripe tomatoes (I've used beefsteak, cherry and grape tomatoes)
1 shallot
1 tablespoon raspberry balsamic vinegar
3 tablespoons olive oil
freshly ground black pepper
pinch of flakey salt
fresh basil leaves, finely chopped (I've used baby basil)
Method
Cut the tomatoes into slices, quarters, halves or however you'd like and arrange them on a plate or shallow bowl — it's nice to have a mix of shapes so it looks more interesting.
Peel the shallot and finely grate it in to a small bowl. Add the balsamic vinegar, olive oil and pepper and whisk until it emulsifies (becomes thick and well combined).
When you are ready to serve, drizzle the dressing over the tomatoes (you may not need all of it) and sprinkle with salt and fresh basil.
Serve with pretty much anything!