Nut Clusters with a Kick
These crunchy chocolatey treats are quick to make and satisfyingly delicious.
Due to popular demand they are featuring heavily in our picnic basket at the moment – definitely something to look forward to after a long ocean swim.
For this recipe I use Green & Blacks 85% Dark Chocolate — the darker the better IMO — but use which ever brand you like best. For the dried fruit I make sure there is only one ingredient listed on the packets, no added sugar, sulphites or preservatives. You can adjust the cayenne to your taste (or leave it out… actually don't leave it out, promise me you'll try it just once, you won't be disappointed!) Mix and match the nuts and fruit to whatever you have in your pantry, a handful of cranberries or some naked crystalised ginger instead of the apricots is also delish (adds in a little sugar though), experiment!
MAKES 12
Ingredients
1 cup almonds
75g dark chocolate
1/3 cup macadamia nuts (or hazel nuts)
12 dried figs
6 dried apricots
sprinkle of cinnamon
pinch of cayenne pepper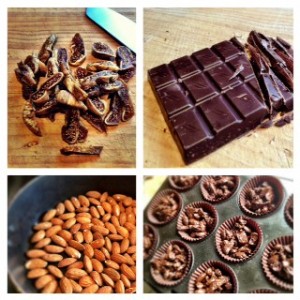 Method
Cut the stalks of the dried figs off and discard. Slice figs and place in a stainless steel bowl (glass if you don't have one, but you should think about getting one, they are great for conducting heat).
Thinly slice apricots and roughly chop the macadamia nuts and add to the bowl with the cinnamon and cayenne. Stir to combine.
Put the almonds in a frying pan and toast until brown.  Shake the pan to move them around occasionally and try to brown both sides.
MEANWHILE slice the chocolate as thin as you can and put it on top of the ingredients in the bowl (let it sit on top of all the ingredients, don't mix it in).
As soon as the nuts are done, throw them into the bowl on top of the chocolate and let it sit for about 30 seconds (this will melt all the chocolate). Mix well to combine and spoon into a muffin tin lined with paper cases.
Chill until set – pack into your picnic and eat on a beach after a long swim (and if you're lucky hubby would have packed a thermos of coffee to go with it).